PRODUCTS
CONTACT US
Add:Chishan,Rongcheng,Shandong,China
Tel:+86 178 646 89918
Fax:+86 631 737 2468
E-mail:flinfo@flonfishing.com
Contacts:Lichun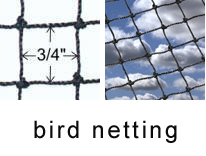 INTRODUCTION:
PE bird netting 
*material: High Density Polyethylene netting
* Breaking Strength: in excess of 52lbs
* Thermal Properties: Melting point in excess of 270 degrees
* 3ply, 4ply, 6ply, 9ply and 12ply strands
* Single Knot or Double Knot
* Diamond Mesh or Square Mesh
* Net is abrasion, UV treated, Fire flame retardant and rot resistant
* All knots are steam set
* Color: Black, White, Beige, Stone, Translucent and other colors.
* Available square mesh size: 3/4", 7/8", 1-1/8",2",4",
* Size: 25FTx25FT, 25FTx50FT, 50FTx50FT, 50FTx100FT, 100FTx100FT
*Nets against pigeons, swallow, sparrow and little birds
*Widely used on windows, monuments, squares, ponds, gardens, farmlands, buildings and etc.
*To prevent the birds from destroying, occupying and etc.
*open easily with square mesh
*UV treated and flame resistant can offer more security